Stéphane Ouellette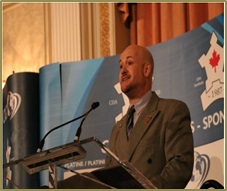 President and Chief Executive Officer, Merchant Navy Commemorative Theme Project (MNCTP)
Visionary, strategist, advocate, 
Mr. Stéphane Ouellette is the Founder, President and Chief Executive Officer of the Merchant Navy Commemorative Theme Project (MNCTP).  The MNCTP is an organization dedicated to honouring our Canadian, Allied Merchant Navy, and American Merchant Marine Veterans, recognizing their sacrifices and contributions to our freedom and systems of democracy, and safeguarding its historical integration into our national and international mosaics of heritage and culture.
In addition to presiding over 10 successful national yearly events, held at the National War Memorial, located in Ottawa, in January 2015, the MNCTP launched, The Pan-Canadian and International Recognition of September 3, to encourage, in part, the capital cities of each province and territory to recognize Merchant Navy Veterans Day.
Due to this forward momentum, on September 1, 2015, The Apostolic Nunciature in Canada announced that His Holiness Pope Francis would include a special remembrance in his prayers for the souls of the men and women who lost their lives serving their countries in the Allied Merchant Navy.
On September 3, 2015, on Merchant Navy Veterans Day in Canada, the provinces of Saskatchewan and Manitoba made official proclamations declaring September 3rd as Merchant Navy Day, in their respective province.   Also, Mr. Jim Wilson, MPP, Simcoe-Grey, in the province of Ontario, and the Honourable Paul Davis, Premier of Newfoundland and Labrador, both provided support messages. In addition, a commemorative ceremony was held successfully in the Town of Collingwood, Ontario.
On February 20, 2015, Mr. Ouellette launched the Colonel John Gardam Lifetime Achievement Award, and presented the Award to Vice-Admiral Ron Buck, RCN (Ret'd), first time recipient, and former Vice-Chief of Defence Staff, and Chief of the Maritime Staff, Department of National Defence, at the 2015 CDA/CDA Institute Ottawa Conference on Security and Defence.
Mr. Ouellette has also founded and presided over two non-for-profit organizations: The Sydney Harbour Fortifications Society, and the Chapel Point Society to preserve the coastal defence network of WWII Fortifications, in Sydney, Cape Breton, Nova Scotia, as part of a multi-million dollar infrastructure development initiative.
Mr. Ouellette is also a Senior Executive/Consultant with over 20 years of experience in the areas of Strategic Management and Communications, National and International Promotions, and Public Relations.
The MNCTP is honoured to be: an Associate Member Association of The Conference of Defence Associations and the CDA Institute; an Honorary Patron to The Never Forgotten National Monument Foundation; and a member of The Royal Canadian Legion, Montgomery Branch, located in Ottawa, Ontario.
Mr. Ouellette resides in Ottawa, and has a son named Luke.